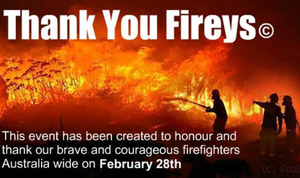 Friends around the world are seeing images of the devastating fires happening here in Australia, & I thank you for your emails of concern & support. 
My home (Brisbane) is relatively unaffected by the blazes, but everyone has been affected in some way, whether it's personal loss, or connections to families who've lost their homes or businesses, or simply breathing smoky air that has become the new norm in many places. 
It's truly devastating to see, but also inspiring to see the way that communities pull together in times of emergency. I'm confident that the many homes and beautiful towns destroyed, will be rebuilt from the ashes.
A special shout-out to the firefighters, (most of them volunteers), who day after day put their lives at risk - and have been doing so for the past few months. Every day we read stories, and see images of incredible courage and heartache. 
Our 'fireys' are true heroes! If you'd like to support them, click: Thank you Fireys 
Michael