A highly antici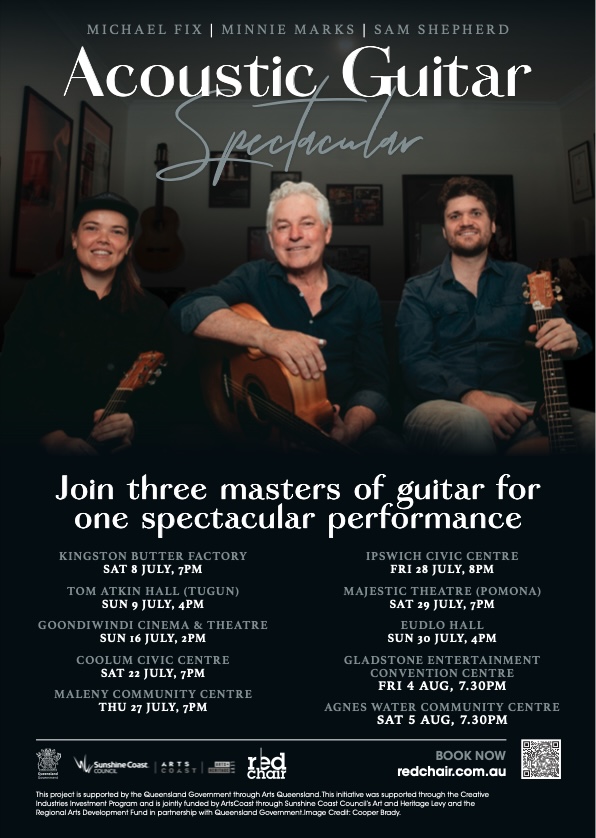 pated annual event, the Acoustic Guitar Spectacular brings together a hand-picked group of internationally recognised acoustic guitarists from across the globe. This series of very special concerts is hosted by internationally acclaimed Brisbane guitarist Michael Fix 
The concerts are structured so that each player will feature as solo artists, as well as performing as an ensemble, allowing plenty of opportunity for spontaneity and improvisation. Three players with such diverse musical backgrounds presents amazing possibilities, and incredible variety for audiences.
Invited guitarists are known for their ability to entertain, and each present their unique music with a view to engage and delight audiences with stories, songs, and humour, (as well as fretboard fireworks!), making it a performance aimed for all people, not just 'guitar aficionados'.
This is a rare opportunity to see such a wealth of amazing musical talent on the one stage. 
Past guests include: Luca Stricagnoli, Andrea Valeri, Adam Rafferty, Sönke Meinen, Richard Gilewitz, Van Larkins, Bruce Mathiske, Chris Tamwoy, Jordan Brodie, Jamie Clark, Minnie Marks, Sarah Koppen, Lecia, Andrew Veivers, Robbie Long. 
---
The 2023 Edition will be touring Queensland in July/August. Michael will be joined by Minnie Marks & Sam Shepherd. 
Red Chair Pty Ltd is focused on responsible and safe management of our Staff, Contractors, Artists and Patrons. Our Work Health & Safety Plan for COVID-19 ensures we manage our obligations to keep people safe within our varied work environments.
If you are unwell or showing signs of COVID-19 please do not attend the event. Self-isolate and seek medical advice.
"This project is supported by the Queensland Government through Arts Queensland."