Next Camps:   stay tuned!
---
Fingerstyle Fixation - Michael Fix guitar camps.
Since the early 90s, Michael has been presenting guitar workshops.  What started out as Maton product nights in music stores, quickly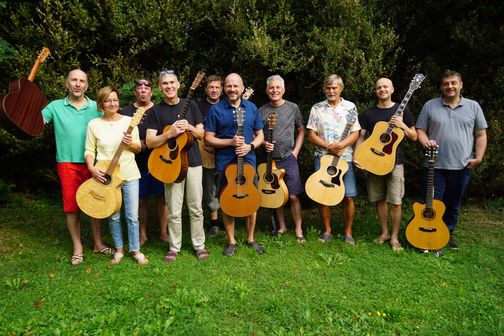 developed into intense, inspirational acoustic 'Guitar Power' sessions, popular throughout Australia's eastern states.
Since then, Michael has been involved in many formats of guitar teaching, including running week long guitar schools, two or three day guitar camps, and four day learning/holiday camps, such as his inaugural Austria Guitar Retreat in 2019.  He has been a guest tutor three times at the Tommy Emmanuel guitar camp, and also three times at the Tuscany Guitar Camp.
As well as teaching songs, and techniques, Michael focuses on the importance of preparation, leading to increased confidence. This preparation phase takes in everything from practice routine, right through to preparing for a debut performance, whether it be in front of a single person, or an audience. Michael also includes seminars on stagecraft, and dealing with performance anxiety, and provides many tips and ideas to help conquer nerves.
Michael encourages a mutually supportive, fun, and non-competitive environment, with many opportunities for participants of all levels to expand their skills by jamming with fellow participants, and testing performance skills at the evening informal open-mic sessions. 
Developing an effective practice routine
Fingerstyle guitar techniques
Adapting and arranging popular songs
Playing together as a group 
Understanding chord structure, and scales
Developing improvising (jamming) skills
Preparing for performance, stagecraft, and dealing with anxiety
developing confidence
Testimonials
'I have participated in several guitar camps, and the camp with Michael Fix in Austria is the most educational camp I have been to. Michael is an accomplished instructor and also a pleasant guy to be with.' (O. Jensrud, Norway)
'The workshop surpassed my expectations by far. Days of learning a lot of new stuff and nights of making music together. Great fun in an awesome group of guitar enthusiasts with an amazing teacher' (C. Hackenberger, Germany)
'You covered so many great topics and Ben learnt so much. He has been practicing those exercises and has a long list of really great tunes he wants to learn now...I can't thank you enough for putting on the weekend and being so willing to share your wisdom and experience.' (Kate Gillard, Australia)
'Awesome experience! A lot to learn, listening and playing together...I've really enjoyed it' (A. Stepaniak, Austria)
'vielen Dank für die schönen Tage in dieser idyllischen Ecke Österreich`s. 
Der Kurs war PERFEKT!!!, mit viel Engagement und Geduld, sehr professionell,
dabei persönlich mit praxisbezogenen Tipps.' (A. Schräg-Plausch, Germany) 
---
Learn Michael's tunes - Video lessons now available
Sign up to the mailing list to receive notifications about future camps!