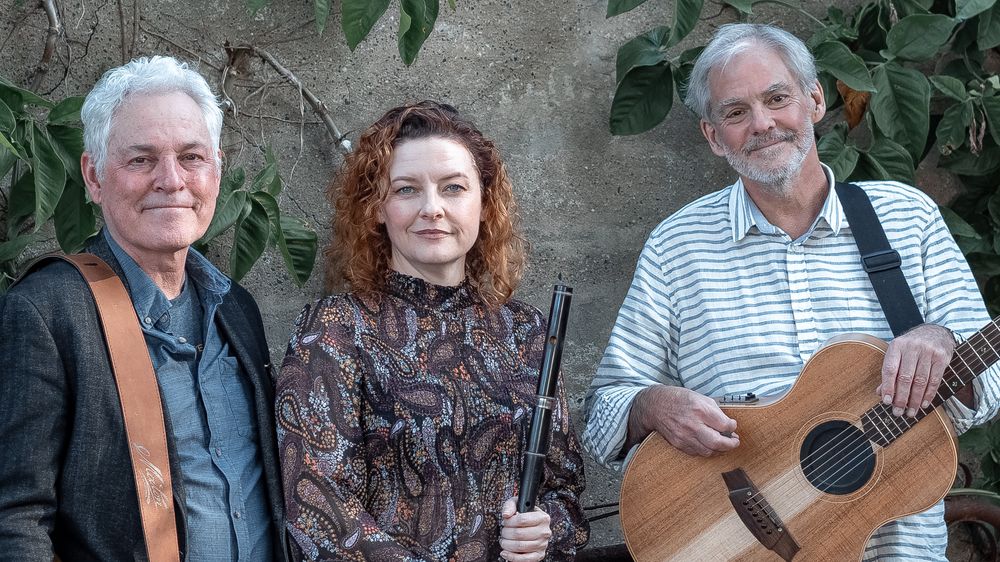 Timelines:
Australian Stories in Song
Michael Fix, Sarah Calderwood and Mark Cryle present Timelines, a suite of skillfully crafted original songs telling tales of Australia's chequered history - the good, the bad and the ugly. These are vibrant musical narratives, variously peopled by heroes, heroines and rogues and delivered in concert by musicians of the highest calibre. Here culture and contemporary folklore are connected gravitas and humour. Timelines offers fresh perspectives on well-worn stories and also sheds new light on previously obscure characters and episodes from the nation's past. These songs, and the stories which accompany them, yield powerful insights into the thoughts and feelings of the people involved, as well as a unique and fresh understanding of the events themselves.
Put a guitar into Michael Fix's hands and the emotional possibilities of music are suddenly released. Over the past 30 years, Michael has established himself as one of Australia's finest guitarists and composers. Sarah Calderwood is a multi award-nominated singer and multi-instrumentalist who unites storytelling with modern and traditional folk. Mark Cryle was once described by the Courier Mail's Noel Mengel as "one of the best songwriters in Australia". Together these versatile and accomplished musicians create a unique  perspective on Australian history.
"…hats off to main songwriter Mark Cryle whose melodic hooks could land a marlin" ... Rhythms Magazine 
"The most impressive aspect of Mark Cryle's beautiful and lyrical historical songs is that they retain absolute accuracy…without losing any creative force or any melodic vigour and power." Professor Raymond Evans 
"Writing songs is a talent that very few people possess. To be able to imbue songs with historical and cultural significance, while instilling a sense of familiarity, requires exceptional talent. Mark Cryle has that gift." John Graham, musician & band leader of award-winning band, Murphy's Pigs
Album 'Timelines' - released APRIL 2021                   Listen on your favourite streaming platform
Available for Concerts, Festivals, Library and School performances. 
'Timelines' is a wonderful take on Australian history. Through a combination of storytelling and song, Mark and Michael delivered an authentic, heartfelt and entertaining program of original songs to an audience who were transported back in time and captivated by the landmark events that shaped our history. Mark and Michael are extremely talented performers and delivered one of the best events we have held at Port Stephens Library this year. Library members rated 'Timelines' as one of their most memorable musical moments of 2021 and are still asking when Mark and Michael will return for another performance...this is one show not to be missed! 
Kris Abbott 
Library Services Manager (Port Stephens) 
ABC Radio Interview with Rebecca Levingston, April 30
Michael Fix & Mark Cryle
Michael Fix & Mark Cryle: Timelines – Australian Stories in Song 
Timelines - Like many introductions, this one was written towards the end of the project – indeed after it had already been named! It's a type of manifesto for our very idiosyncratic Australian history. 
Man on the Wire - Con Colleano was an internationally acclaimed circus performer throughout the 1920s, 30s and 40s. Because of his swarthy complexion he performed high wire tricks in the persona of a Spanish toreador. He was born Cornelius Sullivan in Lismore in 1899, the son of a Bundjalung woman.    
The Lamps of Valparaiso - In 1834 ten convict conspirators  stole the brig, The Frederick in Macquarie Harbour, Tasmania. They made their escape by sailing it across the Pacific to South America. One of the ringleaders, James Porter, had previously lived in Valparaiso, Chile and had a wife and family there. 
Quarantine – When Australian troops returned from World War 1 in 1918 and 1919 they brought with them the so-called Spanish flu, a pandemic which killed more people world wide than did the war itself. Australia enacted similar measures to those we see in Covid times – social distancing, masks, quarantine and border closures. Because of shipping shortages, most troop transports docked in the southern states only and Queenslanders trained north to be quarantined in border camps. 
Rock & Roll George – Something of a Brisbane icon, George cruised the city streets in his distinctive 1952 FX Holden from the 1950s until his death in the 2000s. Over five decades the good citizens of Brisbane were variously amused, shocked, threatened or enthralled by his presence –  but never oblivious to it. 
The Granville Train –  In January 1977 the nation was shocked by news of an horrific rail disaster in the Sydney suburb of Granville. Eighty three people lost their lives and more than 200 were badly injured. Though sung in the first person, this song is not autobiographical. 
Overpaid and Over Here – Nearly a million U.S. troops passed through Australia during the war years 1941 to 1945. The social and economic impact of their presence in Australian cities was profound. Local resentments often festered such that clashes between Australian and U.S. troops like the 'Battle of Brisbane' (November 1942) were not uncommon. 
Coppertown Blues – Unlike the other songs recorded here, this one is actually autobiographical. Michael grew up in Port Kembla, quite literally in the shadow of the 200 metre chimney stack which served the ER&S copper smelter. 
The Devil's 13 – They say history repeats. In some respects that's true. Moral panics about degenerate, transgressive youth are a generational phenomenon. In the late 19th and early 20th century, the streets of Australia's cities witnessed the growth of the so-called 'larrikin pushes' many of which gave themselves names. The area around Waterloo in Sydney was infamously witness to such activity. 
Marrickville – Race riots have been a notable feature of the nation's history and the 2005 Cronulla version was yet another dark chapter. Herein the song's narrator pleas for the kind of cultural integration and understanding one might expect to find in the Sydney suburb of Marrickville, 45 minutes north. Marrickville was, at the time, the local government area with the highest number of non- English speaking background citizens in the country. 
I Belong to This Land – We can't right the wrongs of Australia's bloody colonisation history but we can sure acknowledge and remember them.