It's no secret; I love what I do. I'm doing what I've always thought to be 'best job in the world' - playing music. I've been earning a living as a musician since my school days. You could say that I'm 'living the dream', but I'm also fully aware that my journey has been made possible by key people who've helped me along the way.
I want to use this page to pay tribute to people who have been important to me, and to publicly acknowledge their influence.
In order of appearance... 
---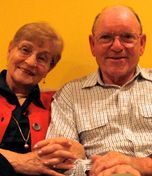 Hans and Ann Fix - my parents!
I'll always be incredibly grateful for having parents who nurtured my musical interest. My father played guitar when he was a young man, so by the time I became interested in music at the age of 10, there was at least a guitar lying around the house not being used.
My father showed me the handful of chords he knew, to get me started. For Christmas, they bought me my very own guitar – from Kmart (!)– an 'Audition' acoustic guitar. 
I loved that old box, and when they realised that I really was serious, they arranged lessons for me at the Alan Phillips Guitar Academy (see further down).
Impressed by the way that I applied myself to the lessons, they supported me when it came time to upgrade my instruments, by supplying me with very affordable loans!
Despite having the typical parents attitude of "you should have something to fall back on", they were nevertheless very supportive in my decision to pursue music as a full-time career path.
Still alive and well, & living in Wollongong - I love them dearly.
---
 Manfred Rentz - family friend, first mentor and 'older brother'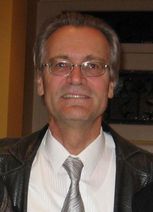 Manfred, from my home town Wollongong, was a key player responsible for 'stoking the fire'. Three years older than me, he was the first mentor in my life. A wonderful fingerpicker and songwriter, he patiently showed me chords, riffs and songs - most notably the guitar riff to the 1971 Australian rock classic 'Eagle Rock'.
Along with bandmates Jock McCauley & Tony Malfitano, he graciously allowed me to watch his band rehearse, hang out with the 'big boys', take me to events, and, he let me play around with the incredibly interesting things to be found in his room: record player, assorted guitars, tape recorder, music books (especially those Beatles songbooks), and an extensive record collection!
Just like a very kind older brother!
We are still close to this day, and we still share a passion for music.
---
 Alan Phillips (12/11/41 - 10/5/96) Guitarist and Educator.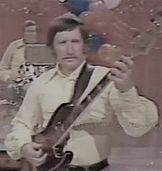 in Rockhampton in 1941, Alan moved to Brisbane as a 16 year old, and soon fell under the spell of music after seeing Buddy Holly perform at Brisbane's renowned Cloud Land. But Jazz was Alan's true calling, and he was most inspired by the guitar of Barney Kessel, Joe Pass, Charlie Byrd, and local players George Golla & Don Andrews.
In 1969 he created the Phillips Guitar Academy, on the corner of Princes Hwy and Daisy St in Fairy Meadow (NSW) which he ran until 1996.
He was also a long time member of the Belmore Basin Jazz Band. 
My parents enrolled me for weekly lessons at the Guitar Academy in 1972. I still remember the waiting room, gazing at the walls adorned with 'exotic' spanish bullfight posters, and record covers whilst trying to listen in to what was happening in the music room next door . My first teacher was Tony Strasser, followed by Tim Kersten, both inspirational young teachers. Not long after I 'graduated' to Alan, who introduced me to advanced Jazz concepts, and wonderful books by Mickey Baker, Ted Greene and Don Andrews (which I still review to this day), as well as classical guitar.
He was a brilliant teacher, he loved to 'dangle a carrot' at the end of the lesson by playing me something amazing (and just out of my reach) that would keep me motivated and buzzing until the following week.
He died in May 1996 from secondary liver cancer, and is survived by his wife Diane, and children Andrew, James and Danielle. 
---
Brian Kelly – a pioneer of Tamworth, Country Music Capital – (25/11/34 - 27/7/12)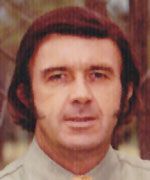 I met Brian in January 1975, when my parents took their annual holiday at Lake Keepit near Tamworth. I was a bit of a loner, just me and my guitar, and I was delighted to discover the sound of a band rehearsing in a caravan nearby. What a strange new sound it was: country music!
They invited me to listen, and I ended up tagging along to all their rehearsals, culminating in a visit to Tamworth to watch them perform in the 2nd-ever Tamworth Country Music Festival; these days Australia's largest music festival. They were called The Capital 3 Ranch Band.
I came home from that holiday fired-up and determined to form a band, which I did, and we named ourselves The Capital 4 !!
I've gone on to have some involvement as a player and producer in Country Music, and for many years I tried to locate Brian to remind him of the short time we had together, and the influence he had on me. I found him living just an hour away from me, and I finally spoke to him just before he died. He was thrilled to be remembered. 
---
Tommy Emmanuel - CGP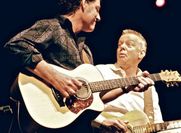 Australian guitar virtuoso Tommy Emmanuel was, and still is a major figure in my life. At 18 years of age, when I was at that crucial stage of life, at the crossroads deciding which way to go with my music, I met Tommy in Sydney - and my world changed forever. 
By introducing me to the music of Chet Atkins, Jerry Reed, Joe Pass, Django Reinhardt, George Benson, Merle Travis (and many others), and then revealing their secrets to me...guiding and inspiring me...priceless!
He encouraged me to make the move to Sydney, helped me into the Sydney session scene, introduced me to countless people, shared his experiences, taught me enough licks, tunes & tricks to last a lifetime, and set me on the 'solo guitar' path.
Tommy set me on the path that I still follow today; his most valuable lesson still resonates with me: "There is only one 'you' - be the best you can be"
I thank Tommy for his incredible generosity, and his willingness to share his vast knowledge. 
---
 Alan Samin - Messiah Music Italia - supporter, and mate. (27/12/42 - 2/6/17)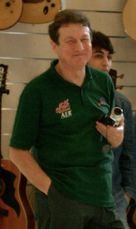 Neville & Linda Kitchen (Maton Guitars) introduced me to Alan in 2003. Alan had recently created Messiah Music to distribute Maton guitars throughout Italy, and was looking for players to represent the brand by playing concerts and presenting in-store demos. Little did I know what a major impact he would have on my life. 
I was already established as a Maton endorsee, and Alan thought it would be great idea for me to have my own signature model guitar. Soon after, The Maton EBG808C micfix guitar was born, in time for our first tour of Italy in 2004. 
Trained as a chemist in the textile industry, Alan was an energetic, witty and intelligent man, passionate about his family, wine, food, guitars, music - and all things Italian! He had a particularly deep knowledge and love of instrumental guitar music from the 50s and 60s.
Our tours together were tremendous fun, and always a gourmet food & wine experience...I have such beautiful memories of our times together, and I learnt a lot from him.  
I maintained close contact with Alan & (wife) Robyn up to just before his death...he'd been battling various health issues in the past few years, but his spirit and humour remained strong.
He helped kick-start my European touring career - and I'm forever grateful for that.
I miss him dearly.
---