I'm home again in my office (and studio) after the Acoustic Guitar Spectacular tour, and I have 3 weeks before I head off to Europe and UK...it's the times in between tours when the real work gets done. In addition to completing a number of studio projects for clients, there's the UK visa to apply for, hotels and travel details for the next tour to finalise, as well as next year's tours to organise. Then, managing social media, filming/editing movies, manage my YouTube channel, update my website...and so on. 
All very time-consuming, and a familiar story for most musicians and performers.
I have a love/hate relationship with 'office work'. As much as I resent the hours spent in front of the screen (when I'd rather be playing guitar), I remind myself that I'm indeed fortunate to have such an active, evolving music career. 
Rant over!
Check out the Acoustic Guitar Spectacular on tour video - 4 weeks compressed into 5m. Happy memories...
---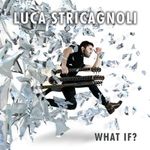 To reduce excess baggage, Luca Stricagnoli left behind some copies of his amazing CD What If? 
So, I suggested: 'What if I try to sell them for you?'
For Australian buyers only.CLICK link to purchase (But hurry, Limited stock available)