Im preparing for my annual Europe tour, & its going to be a great one. All the details are here. 
In Summary:
Aug 26-29 Austria Guitar Retreat
Aug 30, 31 Bavaria
Sep 3 Austria, (Linz)
Sep 6,7 Prague
Then, a short holiday with my wife. (A birthday celebration ?)
Sep 25 - Oct 20 UK North & SouthCD Launch/tour with Christine Collister
Sep 22 - 30 Germany, solo shows.
But before all that...if you're in Brisbane, Im playing my annual 'pre-tour warmup' set at The BUG @ The New Farm Bowling Club, next week August 20, along with Swing Dynamique. I'll be playing some tunes from the new album Cloudsurfing, and trying out some new ideas. 
---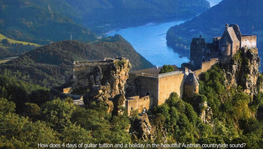 Don't miss out - this is the last chance to sign up for my first Austria Guitar Retreat..,a couple of spaces still open; partners welcome, meals, accomodation included, beautiful location - check out the video link for all the information
---