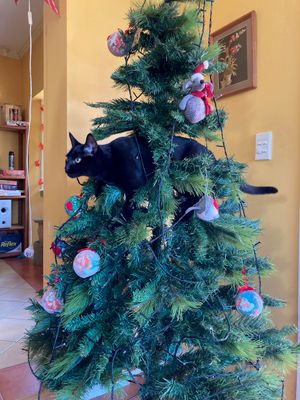 Just a short note, to wish you a happy festive season. 
I hope these coming weeks bring some peace and joy. 
Thank you to all of you who visited my website, joined the email list, watched my videos, listened to my monthly new tracks, bought albums, and transcriptions, came to concerts...I appreciate it very much, and you give me the motivation to continue - for that I'm grateful. 
In our house, erecting the Christmas tree brought smiles and laughter as our new furry purry family members Jasper and Pebbles discovered the delights of a tree covered in shiny baubles and lights. 
Not long after this photo was taken, we found the tree lying on the ground, with decorations spread all over the floor, and a guilty-looking cat sitting nearby. Now, how did that happen, I wonder? 🤪
Best wishes to you all - Merry Christmas and Happy New Year. See you next year