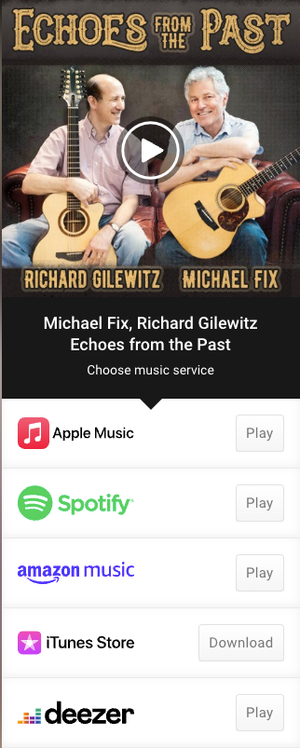 We interrupt normal transmission to bring you news of an unexpected musical surprise: a new duets album by Michael Fix & Richard Gilewitz - Echoes From The Past 
Richard, from the USA, has been a regular visitor to Australia, and we formed a friendship after meeting in Brisbane in 2013. I was intrigued by his quirky guitar style, plus, his dry, witty stage patter had me laughing out loud. 
Whenever Richard was passing through Brisbane, we'd record some tracks. Echoes From The Past is the result of those sessions.
Richard's style is reminiscent of Leo Kottke. Mine is not. If you enjoy acoustic guitar music, I think you'll be surprised by our blend of styles. 
01 - Echoes From The Past 
02 - Echoing Gilewitz 
03 - Eggtooth 
04 - If I Fell 
05 - Jeanne Sleeping 
06 - Minuet for the Backroads 
07 - Mr Sputnik 
08 - Over The Rainbow 
09 - Spanish Two Step 
10 - Study in Bm 
11 - Synapse Collapse 
Available on all streaming platforms - June 14 BUY DIRECT (download)
You can see Richard & I performing the title track on YouTube, (click or scan the QR code.)